My expectations simply could not have been higher walking into the Variety Playhouse's doors to see
DeVotchKa
. My sister has seen them multiple times and talks about the experience passionately. This means high stakes in our family.
Everything Reem told me and
blogged about
was right. There were moments of the show where I couldn't stop smiling and clapping along, and then there were moments where a huge lump would develop in my throat and I struggled not to let my eyes overflow.
Their sound is a fusion of mariachi, east European, bolero, and American folk. The band's talents scale a range of instruments- accordion, sousaphone, stand-up bass, trumpets, bouzouki. There was a full string quartet that played with them through most of last night's show.
We stood right in front; it was amazing to be right next to them, part of the cabaret. We were close enough that I can tell you that the bottle of wine they swig from is Bohemian Highway- the same $3.99 a bottle that I buy in cases. (I drink the Cab, they drank Merlot.)
We were so close that from time to time I would feel self conscious that the band saw me standing, unmoving, mouth slightly agape because I was so blown away but what was happening in front of me.
Lead singer and guitarist Nick Urata's voice is stunning, almost identical live as to their recordings. He sounds like a young Roy Orbison and he moves like Johnny Cash. He would barely hum into the mic and it sounded heavenly. And how can you not love a man who plays the theremin?
Tom Hagerman, the accordion, violin (1st violin for you orchestra geeks) and piano player is a master musician, switching effortlessly from style, instrument and song and adorable playing the piano with one leg tucked underneath him.
Reem had told me that Jeannie Schroder a.k.a. TubaGirl always looks like she's smiling while playing the sousaphone - because that's the shape your mouth makes. But the trumpet-player-slash-drummer Shawn King smiled the whole time regardless whether he was playing or not. Maybe because it was his birthday which the band celebrated with candles on a red velvet cake at the end.
Here's some video of them playing "Queen of the Surface Streets". My favorite part is when the string quartet pizzicatos along with the xylophone and then you see TubaGirl dancing and clapping along.
Highlights for me were
I Cried Like a Silly Boy
and their cover of
Siouxsie and the Banshee's
The Last Beat of My Heart
.
Transliterator
was an epic to the proportions of GN'R's
November Rain
or the Dead's
Terrapin Station
. They rocked it out with a triple song encore of wild wonderful gypsy music.
And my honey got me the setlist! I had gotten one at a
Jerry Garcia Band
show in 1992 and the roadie took it from me "that's already promised to someone". Bored. And then at
Concrete Blonde
a few years later I picked it up off the stage but this jackass tore it out of my hands. So this is my first setlist ever from a show!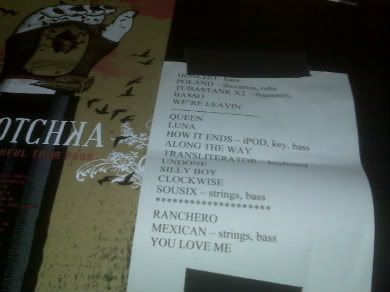 Like my sister realized,
I will never not see them
. Until the last beat of my heart.