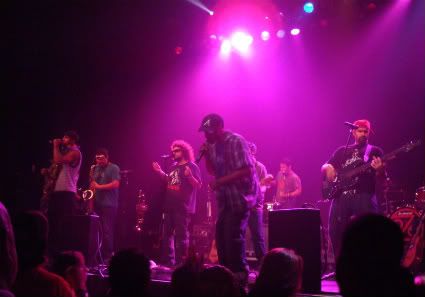 My super kind next-door neighbor Kamau just pulled up in his trunk blasting "Old Time Rock n Roll". I was surprised by the song selection – I've never heard him listening to music in the three years we've lived side-by-side, and I never would have predicted that this would be his selection. After he parked he stayed in the car until the song ended; through my window I could see him drumming on the steering wheel and rockin' out to the song that was clearly making his day.
It's that kind of beautiful day in Atlanta that makes you want to drive around with the windows down listening to music that makes you move. I drove in figure eights around the
4th Ward
making my gradual way home feeling the breeze and sunshine on my skin, blaring
Ozomatli
. My song of choice was "Ya Viene El Sol" which they probably wrote on blue-sky day like today.
How could I help but listen to Ozomatli after last night? The boys brought love, light and revolution to the
Centre Stage
in Atlanta last night, making hips move, girls twirl, and man with their arms around their best friends sway and swing along. It was a great treat to have them headlining in Atlanta again; its been at least 3 years since that last happened.
There were so many wonderful parts of all Ozo shows – the incredible energy they maintain from beginning to end, the passion they convey through lyrics translated into pure vocal sound, each member of the band dancing throughout the songs.
Yesterday, they brought it as they always do but added some lovely pieces: bringing all the kids in the audience up on stage to play and dance with them, dropping the mic into the audience for us to sing along with "After Party", doing their own line dance that looked like a hip-hop
debke
.
Uli
rocked the clarinet- yes, you read that right- on "Coming Up". They smoothly brought their politics into the show yesterday, from dedicating songs to the people of New Orleans and the Middle East, to
Justin's
patch with pics of old and young Mr. Bushes labeled "Dumb and Dumber".
Asdru's
voice- I hardly know where to even begin describing it. The best I can say that after last night he joins Tom Waits,
Ilham Al Madfai
, Neil Young, Perry Farrell and
the Porcupine Singers from Pine Ridge Reservation
on my list of Angel Boy Singers. It's a bit hard for me to describe but these men and their songs mean the world to me. The Angel Boys are characterized by their nontraditional vocal qualities and a sound that reverberates through my core. Asdru has an Angel voice.
It was hard to get video because it was pretty impossible not to dance, but here's one of the beautiful "Cuando Canto". Check out the adorable girl best friends dancing and the beautiful boy best friends with their arms around each other.
They finished the show by all eight members of the band journeying off the stage to party and create a drum circle in the middle of the crowd in the audience. Mohammad read my mind when he turned to me and commented that it felts like we're at a protest. It is this piece that makes me love Ozomatli so- that they politicize their shows in such an accessible way that brings in the truth of our struggle in the streets and combines it with a sound that can our hearts beating strong throughout these times of great human loss and despair throughout the world.
I clearly needed to put the camera down and join the party once it came down on the floor so the footage from this part is brief but for all of us there, I'm sure of the most memorable of the evening.